Clean, bright, airy and stylish, it's really hard not to like the elegant simplicity of Scandinavian kids rooms. Scandinavians have discovered the secret to creating a kid-friendly space that values both function and style. They love the simple things and overdoing something is simply not their thing. So, if you like the idea of this concept and you want to change the style of your kids' bedroom, you should really give it a try.
However, many parents worry that Scandinavian can make their little one's room feel too cold and sterile. But if you know how to execute this style right, you will end up with a soothing and inspiring place that's perfect for nurturing children's creativity and intelligence. There are many ways you can add a bit of warmth to this style and create a comfortable room for kids to play in.
Warm Up the Walls with Wallpaper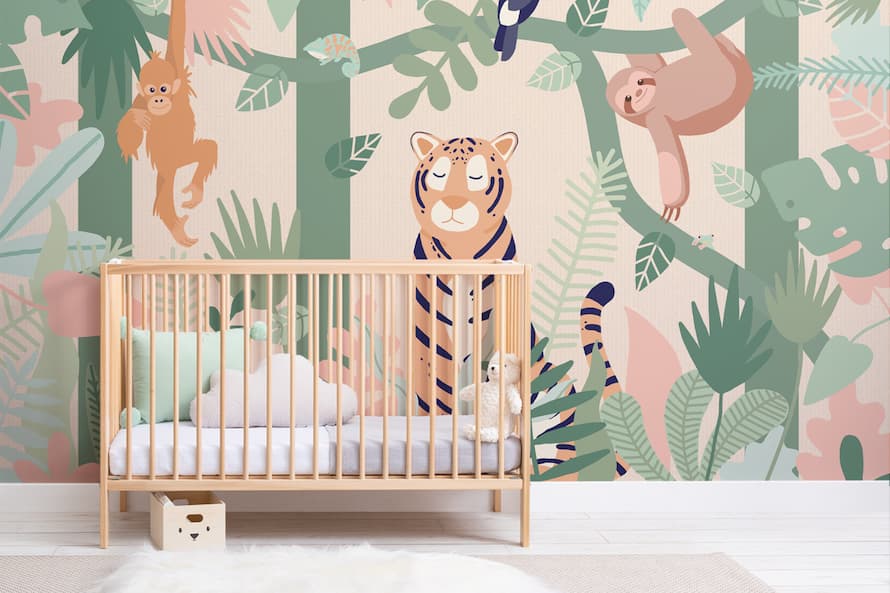 Instead of leaving the walls white like most Scandinavian designs do, in a kids' room, feel free to add some warmth and whimsy by installing a wallpaper. You can add it on all four walls or you can just stick to one wall that can act as the accent in the room and create some variety.
When it comes to choosing a wallpaper kids love, colourful is always the way to go. However, in order to stick to the Nordic style, try to stick to a colour palette where neutrals and pastels dominate. You don't want any colours that are too loud and can disrupt the serenity and cleanliness of the whole design.
As for patterns, to stay in line with the Nordic influence, you can opt for some subtle geometric patterns. These patterns are perfect to trigger kids curiosity. Another wallpaper theme that can blend into a Scandi-style room is nature. Walls that depict a lovely landscape or animals can be a great way to spark interest and appreciation for nature in kids.
But let's be honest, no kid can leave the walls in the room clean and untouched, so it's better to be safe than sorry, right?! When choosing from the many wallpaper kids collections, you may want to stick to the ones that are made of vinyl. They are durable and amazingly easy to clean, so if your kid decides to step in the shoes of Picasso and paint/draw on the wall, this won't be a problem. When compared to removing pencil, crayon or any other stain from a regular wall, removing them from a vinyl wallpaper is a piece of cake. With the help of a damp cloth, the wallpaper will look good as new. This is because stains don't soak into the wallpaper, so cleaning them is easier.
Vinyl wallpapers are also great for hiding some wall imperfections and are considered eco-friendlier and less toxic than any wall paint. How come? Unlike some wall paints, vinyl wallpapers don't contain acetone, turpentine or some other chemical substance that can be dangerous if present in the air. And since we are talking about a kid's room, installing a type of toxin-free wallpaper would definitely be safer for the indoor air quality.
Think About Furniture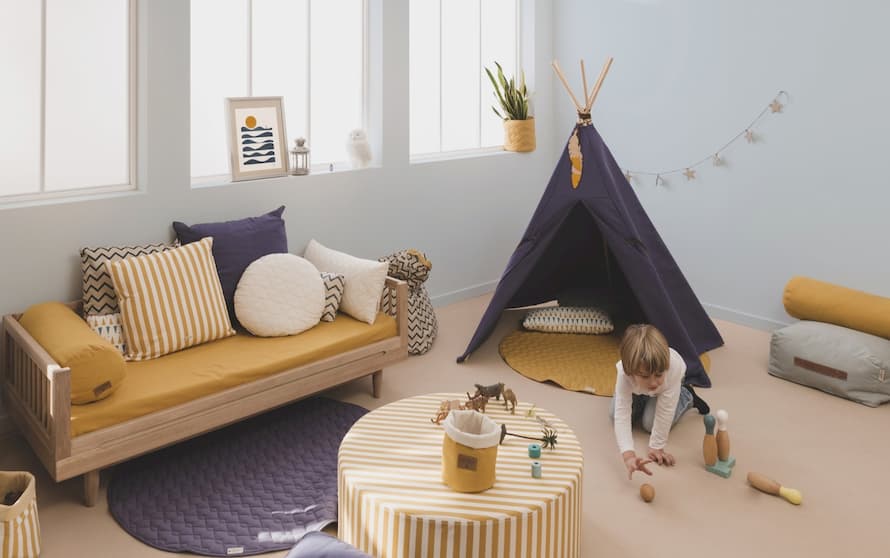 Except for a good and supportive bed, you should also include some additional kids modern bedroom furniture to make a space where the child can create kindergarten projects, play and store toys. Sticking to the clean and smooth furniture lines is essential in order to create a Scandi inspired room. However, you'd also want to focus on other features that will make for a comfortable and welcoming space.
That being said, when it comes to choosing the colour of the Nordic kids modern bedroom furniture pieces, you should stick to the cleaner and more neutral colours like ivory, white, light grey, light brown, etc. All of these colours can have a soothing effect on the child, as opposed to bold and loud colours which can overwhelm the space visually.
And since one of the basic concepts of the Scandinavian design is having a cleaner and clutter-free space, you should also add some interesting storage cases that can perfectly complement the room décor. For instance, you can choose storage solutions in the form of other objects, like for instance suitcases. Unusual storage options can inspire creativity and your kid can use them for more than just storing toys. For instance, in the case of suitcases, the child can use them as luggage in his/her pretend-play trip. He/she will be occupied for hours packing and unpacking the storage case with different kind of things, even with clothes.
Just make sure that you invest in the right size and in the right number of storage cases, so there will be no toy left on the floor. And when t comes to the material of the storage case, it could be made of some kind of padded fabric, wood or even from a powder-coated galvanized iron sheet. The latter material is extremely strong and resilient and it can come in any colour you like. While the colour of the case should be lighter, its hardware can be grey, silver or it can even have a golden hue.
Let's Not Forget the Floor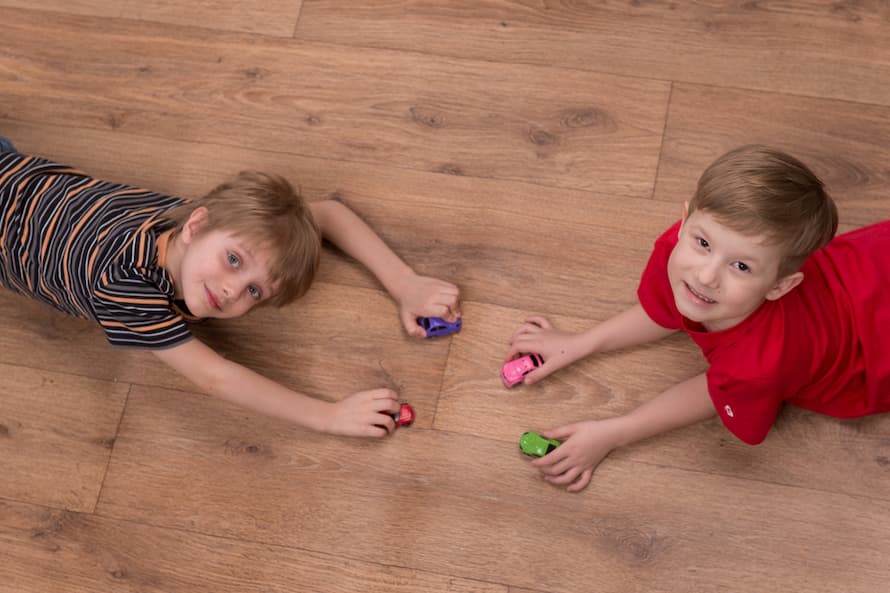 The floors are super important to nail the Scandi style properly. You'd want to stick to white and light greyish floor hues that will visually enlarge the space, making the room look airer and cleaner. This can be helpful in kids rooms where there is a lot going on and a lot of toys lying around on the floor.
But besides choosing the right colour from the neutral palette, taking into account the floor's type is also paramount. Out of all flooring solutions for kids room, it seems that kids vinyl flooring is the most appropriate option. Thanks to the unique property to imitate a variety of textures and materials, you can choose kids vinyl flooring that is a realistic reproduction of wood, concrete, stone or other option. This type of floor is available in both tiles and planks, depending on the look you want to create.
The vinyl flooring solution is among the most popular for kids rooms due to the fact that it's comfortable, cushiony, warm and quiet underfoot. Just what you need! And similarly to vinyl wallpapers, a quality vinyl floor is extremely easy to clean. Vacuuming, sweeping and wiping the vinyl kids floor is easy as pie, just like cleaning stains from it. Stubborn stains can be cleaned with only a damp mop or damp cloth, or eventually with the help of a little amount of some neutral detergent. In most cases, you can clean the stain even with the gentlest baby wipes.
But the best thing is that this type of floor is resistant to scratches and moisture which is another reason why you should consider installing it in your kid's room. Can you imagine having a white/ivory floor that can always look the same?! This is every mother's dream! And not to mention that the installation of this floor can take up less than a day. So, if you already have all of the essentials like the bed, bedding, storage cases, desk and chair, your kid can play and sleep in his/her room the very same day.
Add a Pleasant Scent to the Air with Essential Oils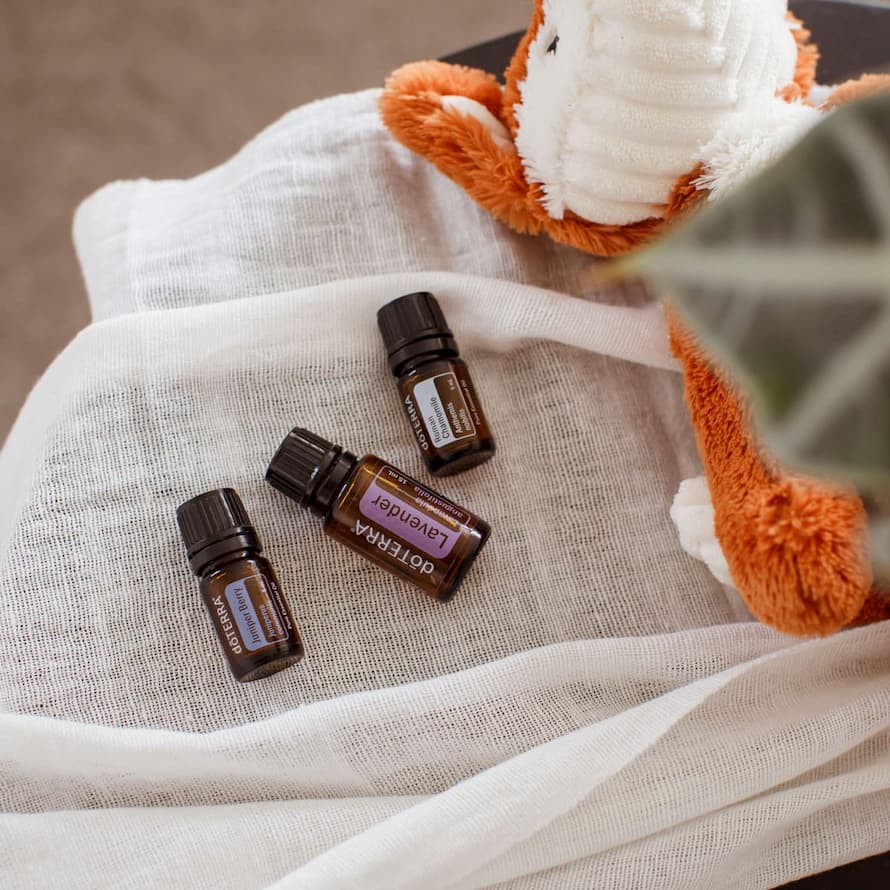 Another way you can make a Scandi bedroom feel warmer and more welcoming is by adding a pleasant scent to the air. But instead of using an air freshener which is full of chemicals and can cause allergic reactions in children, opt for a clean and natural option like essential oils. The right choice of essential oils can create a soothing atmosphere in the bedroom, making it easier for children to relax and even fall asleep faster.
The chances that your kid falls asleep more often in your bed than in his/her own are huge. Sometimes no matter how hard you try to make the room as warm and inviting for your kid, little ones often have trouble falling asleep. While a lot of parents use the 'screen time' trick before bed, this isn't healthy at all.
With the help of essential oils for kids, you can help your little one have a restful evening and a happy morning. There is a number of relaxing essential oils for kids that can create a safe, healthy and happy environment. All you need is an aromatherapy diffuser and the right essential oil blend. You can choose one that contains lavender, mandarin and chamomile as all of them are known for their calming and sedating properties. Another blend you can use is the one containing mandarin, sweet orange, frankincense and sandalwood. Just keep in mind that this therapy isn't recommended for children under the age of 2, as some of these oils can be too strong for them.
Except for relaxing and improving sleep, you can also provide your child with some of the health benefits that aromatherapy can have. For instance, during the cold season, you can add to the diffuser and immune-boosting essential oil blend. You can look for an essential oil blend that consists of lemon, lavender, sandalwood, lemon myrtle and frankincense essential oils. Known for their antiviral, antibacterial and immune-boosting properties, these oils can help prevent the spread of germs in your kid's room while promoting a healthy immune system.
Regarding the diffuser, nowadays you can choose from a plethora of them, available in a range of designs and colours, giving you the chance to find one that can suit the room's Nordic style.