Being the most entertaining area in the house, the living room should be one of those spaces in the home where everything is so homey, cosy yet stylish. And since the TV stand is considered as the focal point in the room, this gathering spot begs to be showcased. Whether you have forgotten your old one while moving (since practice shows that TV stands are the most overlooked furniture pieces or you simply want to invest in a new one, it'll surely be more than welcomed in your living room. But with the vast amount of TV units available on the market, how to choose the right one?
Choose a Comfortable Viewing Height
Straining your neck in awkward angles so you could have a better view on your TV is a guaranteed recipe for neck pain. So, if you're wondering how high a TV unit should be, this can depend on several factors, out of which the height of your sofa is the most important one. And since the TV entertainment unit should position the screen at eye level, measure your eye level when seated in order to determine the right height for the unit. If possible, consider the idea of investing in a unit with a mount as this will allow you to adjust the display level.
The TV Size and Width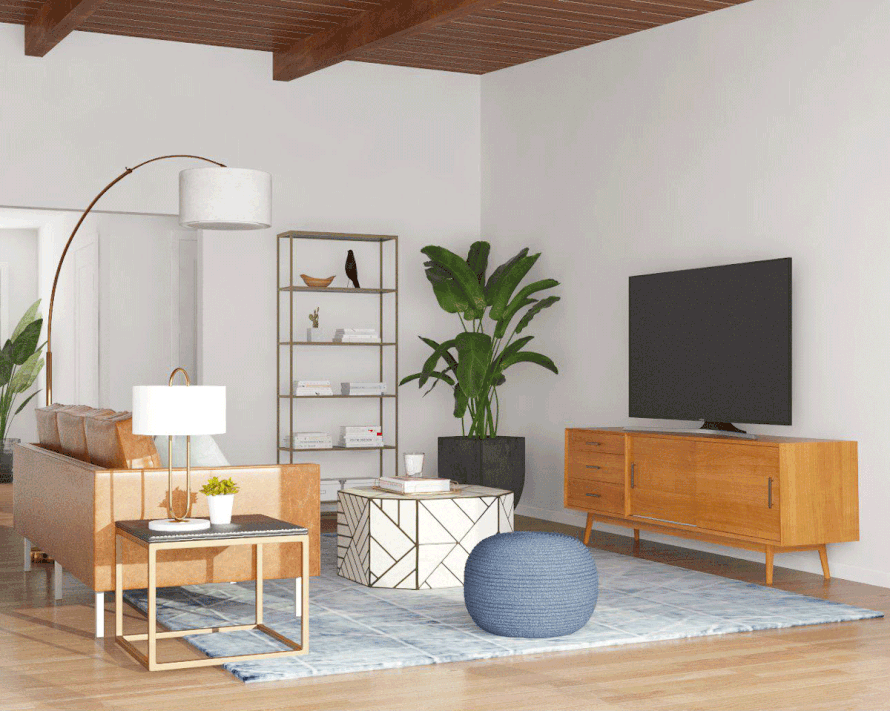 The size of your TV is closely related to the size of the proper TV stand for it. The general rule says that you need to choose a TV stand that is wider than the TV in order to prevent unnecessary overhang. In other words, it needs to be at least 5-8cm wider than the TV on each side. Although the TV will be placed on a firm base, if the stand is too small, there are still chances it might fall. Speaking from another point of view, the TV stand should be big enough to support your TV regardless of its size.
The Best Material
Generally speaking, wood, glass, metal, medium-dense fiberboard and particle boards are the most commonly used materials for TV stands. Although wood, veneered plywood and metal are considered the most durable on the market, the ones made of hardwood are among the most commonly used TV stands. A wooden entertainment unit is stylish and sturdy. This is especially beneficial if you have kids and pets running inside your home all day long.
Another reason why wooden TV units are so popular is that they can be combined literally with any home décor and style. Since they are made from the most natural material, wood, they can add warmth and cosiness to your entertainment area.
Medium-density fibreboard and particle boards are way more affordable than hardwood, but they are also less stable and durable. Glass TV stands with metal bases, on the other hand, are quite durable, but if you want to keep them cracks-free and clean all the time, they are not the best choice for high-traffic homes.
Storage Space
Since TV stands are focal points in the living room, you should do your best to keep them clutter-free. In case you have lots of bits and bolts that you don't know where to store and hide, it is recommended to invest in a TV stand with storage. This will allow you to organize all units, cables, magazines, remote controls and so on.
In case you have some dear décor pieces you want to showcase, it is recommended to choose a TV unit with a broader tabletop space. In order to keep the cables away, choose a TV stand with a cutout for easier cord management. Depending on your taste, you can choose a TV stand with open shelving, drawers or closed cabinets.
The Right Type
Regardless of your living room's shape and TV stand space, nowadays, you can choose from a large selection of TV stands. Ranging in shapes and sizes, nowadays it's easy to find a TV stand for your small and irregularly shaped room. You can choose a swivel stand in order to find your best viewing angle in case its designated space doesn't line up with the seating area. Wall-mount TV stands are great for smaller living rooms or for those of you who simply want to have more floor space.
Style
Today you can pick from a large selection of TV stands with different decorative elements. Although it is trendy to mix and match styles if you're not sure that you can do it, you should either consult with an interior designer or you should simply stick to the ones that can blend well with your current interior design. For instance, TV stands with open shelving and geometric lines are ideal for minimalist and contemporary styled homes. Wooden stands or a combo of wood and metal are great for rustic, industrial and traditional interiors.
Regarding the colour, white, light grey and pale neutral colours can make your living room look airer and brighter, while darker hues and clean lines are ideal for homes with transitional décor. The richly stained wooden TV stands with ornamental details are ideal for traditional and classic living rooms.