Beauty is one of the most powerful weapons a lady can wield when she's aware of it. But there isn't a single standard for beauty, since different people perceive it in different ways. And that's the whole beauty of it! Pun intended. Nevertheless, certain time periods are known for their specific beauty standards.
The changing nature of beauty standards is evident when you look back in history. Throughout the years, women were obsessed with all kinds of trends related to their complexion, even if that required doing bizarre and dangerous things to their skin, such as applying vinegar or ceruse to their faces to get a ghostly-white, porcelain tan.
As times have changed, so did the popular notion of which tan is the most beautiful. In the 21st century's most ladies find tanned skin to be more attractive. And while some of them are blessed to have a naturally dark tan, others mostly get their bronze complexion by spending hours and hours sunbathing. And while spending time in the sun isn't as dangerous as applying lead to your skin, it can still be harmful and damage it permanently.
Heat rashes, blisters and burns, sun poisoning, even melanoma are just a small part of the hazardous consequences of sunbathing. Now, if the 21st century's beauty trends are all for darker skin, the question is – "How to get the perfect tan, without exposing yourself to the dangerous UV radiation and protect your skin from burning?"
Luckily, the decorative cosmetics industry came out with a perfect solution for the ladies who haven't been blessed with naturally dark skin – self tanning products that can give you a flawless bronze and shiny complexion from the comfort of your home.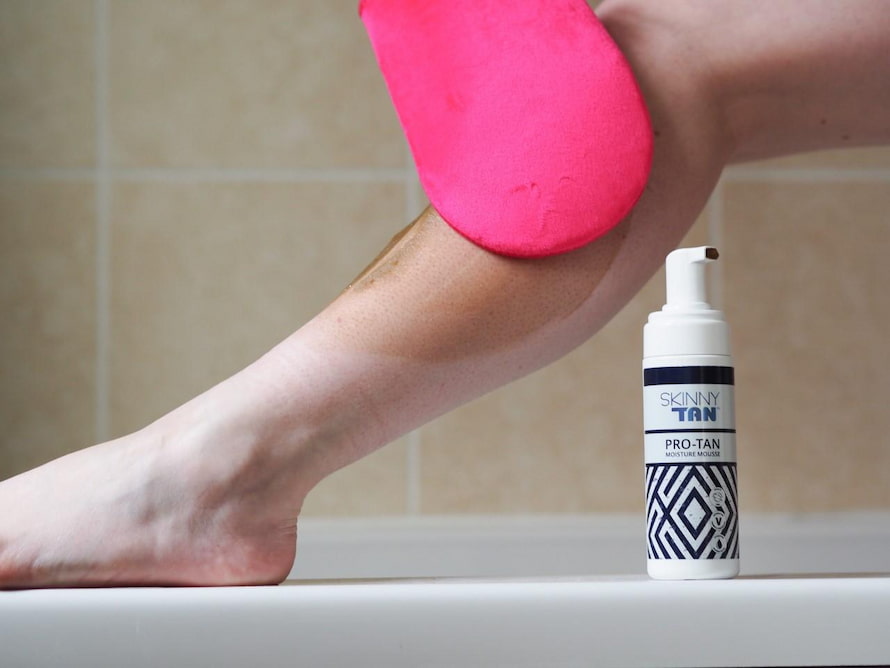 How Do Fake Tan Products Actually Work?
If you're wondering why you should get yourself a fake tan lotion for a perfectly bronzed body, it's because of how convenient and fast it is to get the desired tan. Skin tanning products contain a lot of active ingredients, but the most dominant one is Dihydroxyacetone (also known as DHA). When applied, the DHA reacts with the dead cells on the top of your skin, generating pigments called melanoidins, which give you a temporary darker skin within two hours after applying the self-tanner.
But while the lotion may be fast to apply, that doesn't mean that the tan fades off faster too. There are many products that guarantee you the desired dark tan for up to 10 days!
Don't Worry, Fake Tanners Are 100% Safe When Properly Applied
If you're concerned about applying chemicals such as DHA on your skin, there's nothing to worry about. This self-tan ingredient is approved by the TGA (the Australian Therapeutic Goods Administration) for external application to the skin only. This means that when applied properly, you can rest assured that DHA isn't able to do any damage to your skin. However, avoid inhaling it and applying it to areas covered by mucous membranes, such as lips, nose and the area around the eyes, as well as on damaged skin.
The Steps to Getting the Perfect Tan with Self-Tanners
Most of the tanning lotions and products are applied in the same, standard way. However, always read the label before you start the self-tanning process to make sure if there's something additional to consider for the specific product you chose.
Remember that the self-tanning process requires some patience and time, so make sure you do the proper preparations before you start. The things that may come in handy while applying a tanning lotion are disposable latex gloves, a lotion strap or wand, tissues, and a blow dryer.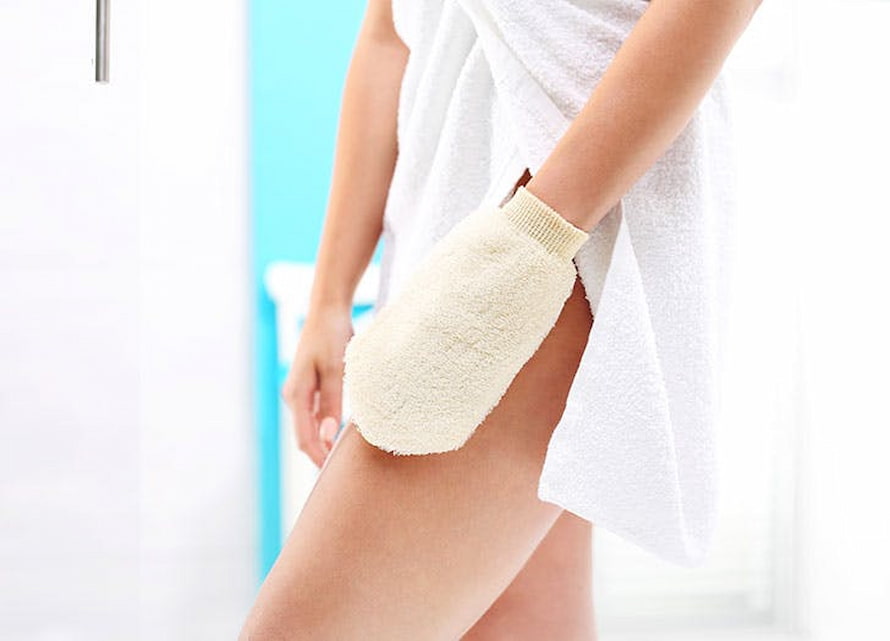 When you get ready, follow these steps to ensure the perfect tan:
Start with exfoliating your skin, ideally 1 or 2 hours before application;
Make sure your skin is completely dry before you apply the lotion because moisture and water is the fake tan product's worst enemy before it dries;
Put on a pair of disposable gloves to keep your hands clean during the process;
Start applying the self-tanner by massaging your legs and your feet in circular motions;
Continue by applying it to the arms, shoulders, chest and stomach;
Don't forget to apply it to your back, using a lotion strap, or a long paintbrush;
Wipe the joint areas like knees, elbows and ankles with tissue, since these areas tend to absorb more of the tanning products. Make sure you don't wipe them completely, but only the excess amount of colour;
Wash your hands thoroughly to also prevent excess colour from penetrating into your hands' skin and make them look darker later;
Blow-dry all the areas where you applied the fake tan lotion for a couple of seconds;
Wait for a couple of hours before you go in the shower. It's even recommended to leave the lotion to dry fully overnight. If you decide to do so, make sure you protect your bed sheets from staining by putting on towels or something;
After you take a shower, fix the uneven areas by applying some more lotion to the lighter areas or "bleach" the darker areas by applying some lemon juice gently.
Tips on How to Maintain Your Fake Tan for Longer
After you've applied the tanning lotion, now it's time to get the most of your new gorgeous tan, and maintain it the longest you can. Experts advise that the best way to keep your tan longer, it so regularly moisturise with a non-oil-based moisturiser that will keep your skin hydrated and protect it from cracking and flaking.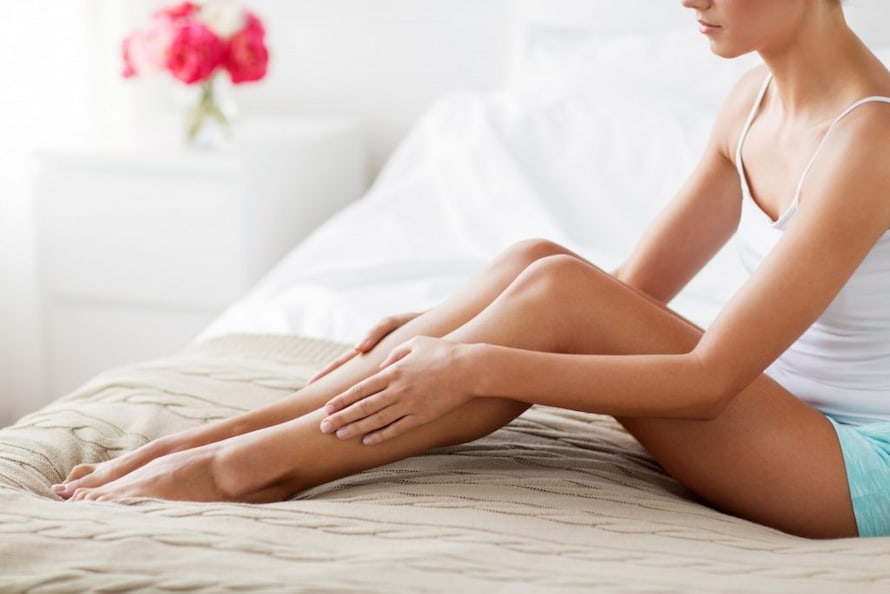 Also, remember that steaming and showering are the fake tan's worst enemies, and the more you practice them, the faster your tan will fade. The most you can do about it is to avoid visiting saunas and taking hot showers and baths since the humidity and heat loosen the tan and soften the fake pigment.
Since we can't avoid taking a shower on daily basis and especially on hot summer days, after getting a mild shower, don't rub your skin with a towel. Rubbing exfoliates your skin, and exfoliation is the fastest way to breaking down fake tans, so make sure you pat it gently instead. Also, make sure to pick a gentle and comfortable bathrobe material that won't be too abrasive on your skin.
However, your fake tan won't last forever, so it's preferred to re-apply the self tanning products once a week for long-term effects. For this purpose, it's best to set a once a week appointment for applying the self-tanner, which fits your schedule and won't eat up much of your time.
And there you go, you're now ready to give yourself the perfect golden glow!