The kitchen is the heart of the home – the place where the warm meals are cooked, where miracles happen! That being said, your kitchen should be a space where you can feel comfortable to spend time in. It should inspire you to whip up your best culinary creations and make everything easier.
When creating a beautiful and functional kitchen, you should think from the bottom to the top. In this case, the kitchen flooring is the first important factor to consider. Imagine having the most expensive cooking appliances, stylish kitchen cabinets, every cooking tool you need and an ugly, low-quality kitchen flooring full of uncleanable stains… Sounds awful, right?
When it comes to kitchens, there's a variety of stylish flooring options – from hardwood to laminate, stone or porcelain tiles, etc. And when faced with all these options, the obvious question is "What's the best flooring for my kitchen?". Of course, there's no one-size-fits-all answer. However, a type of flooring that has become increasingly popular for kitchens is vinyl.
On the market, this option is available in plenty of styles – from easy-to-install sheets to gorgeous vinyl floor tiles for kitchen. It's often considered flooring the best investment you can make! Wondering why? Here are some reasons that make vinyl flooring stand out as the best option.
A Highly Durable Investment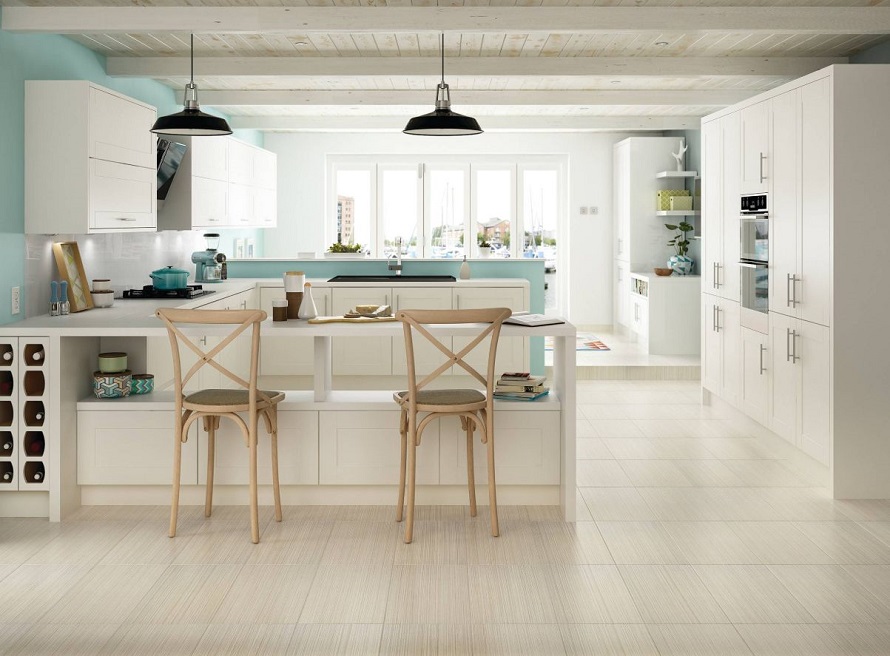 When thinking about investing in kitchen floor tiles, you probably want to choose a long-term solution for your home. And vinyl offers you the comfort to forget about changing the kitchen floor for at least the next 15 years. This is a long enough period for your kids to grow up and stop throwing their toys around the kitchen and make a mess while you cook.
Unlike with other flooring options, you won't have to worry about cracks and scratches, because vinyl flooring is made of several protective layers which are hard to beat. The top layer of the vinyl tile or sheet, also called the wear layer, is what makes the vinyl flooring almost indestructible. The thicker this layer is, the more durable the floor is. Keep this in mind when buying.
Waterproof Solution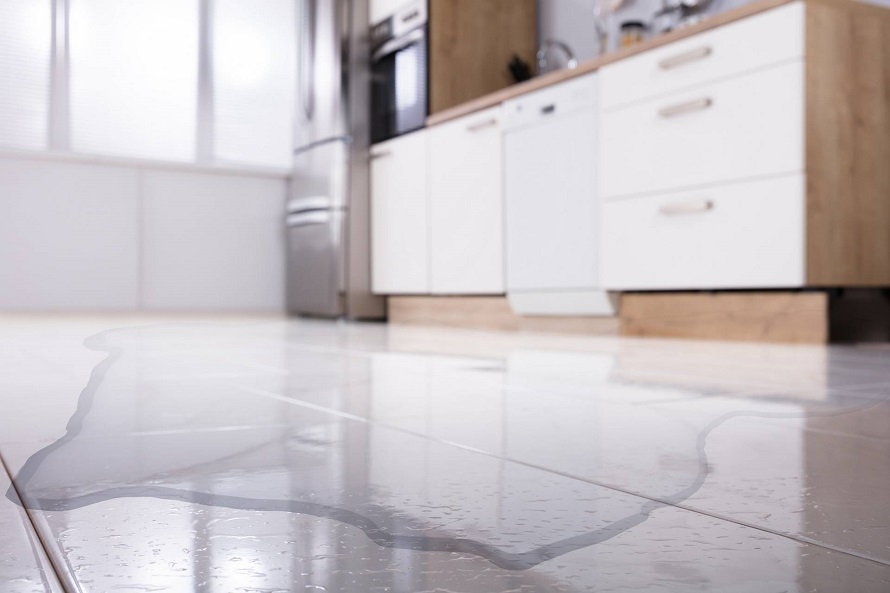 Vinyl kitchen flooring is the best solution for this kind of humid area because it's moisture-resistant. This flooring contains a core layer, which is made of 100% polymer materials that prevent the liquid from penetrating the tile, which is not the case with hardwood, laminate and the other wood-based floorings. You won't have to worry about you or your children spilling water or any other liquid anymore, because after simply wiping it, there won't be any clue that something was spilled on the floor.
Cleaning It Is a Piece of Cake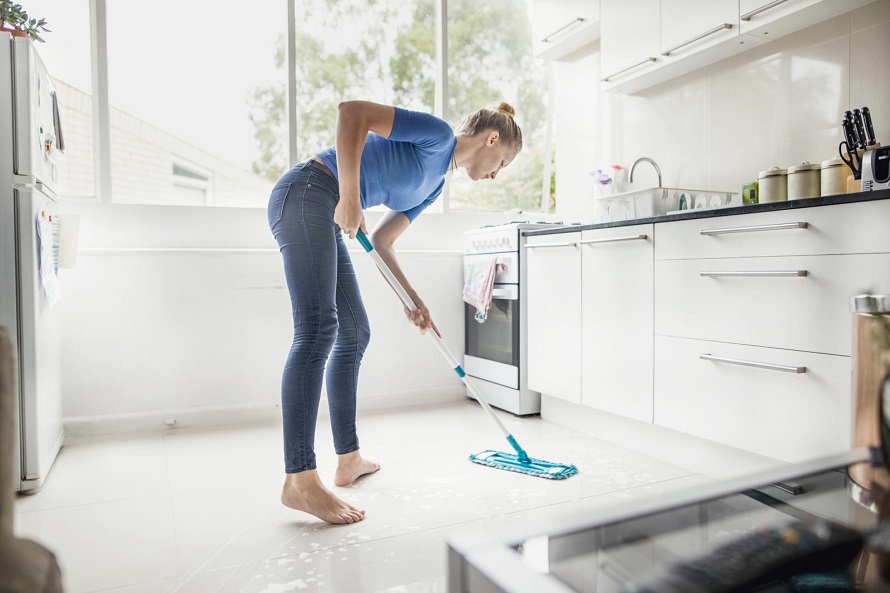 The kitchen is the place where all the family meals are cooked, and it should be clean and hygienic all the time. At the same time, making a single meal can turn the kitchen into the ultimate messy room, with oily stains and dirt everywhere. Imagine cleaning the carpet every day after you finish with your cooking show? A real nightmare!
Luckily, a simple vinyl kitchen flooring can put an end to this horrible cleaning nightmare. Just because of the fact that these floor tiles are water-resistant, they are extra easy to clean. In addition, vinyl floorings are non-absorbent. This means that any kind of liquid or puddle will stay on the surface after being spilled. The only thing you have to do is to simply wipe, or mop them.
You also won't need any abrasive scourers or strong chemicals to keep them clean. The simple formula of bleach diluted with water is enough, even for the most stubborn stains. If you prefer the organic and natural way of cleaning, scrubbing the stain with a piece of lemon, or wiping it with a damp cloth and warm water is the way to go with these kitchen floor tiles. Also, don't hesitate to get your vacuum cleaner the next time you clean the kitchen. They are completely safe for sweeping or vacuuming on a daily basis.
Affordable for Every Household
While hardwoods, ceramic or marble tiles may be the most aesthetic solution for your brand new kitchen, they aren't exactly budget-friendly. But if you're running on a tight budget but still want to keep the authentic style of the kitchen, don't hesitate to go for this practical kitchen flooring. The affordable, high-quality vinyl floor tiles for kitchen will allow you to create a luxurious feel without spending a fortune. Your wallet will be happy about it, and your kitchen too! And speaking of style.
Give Your Kitchen a Stylish Note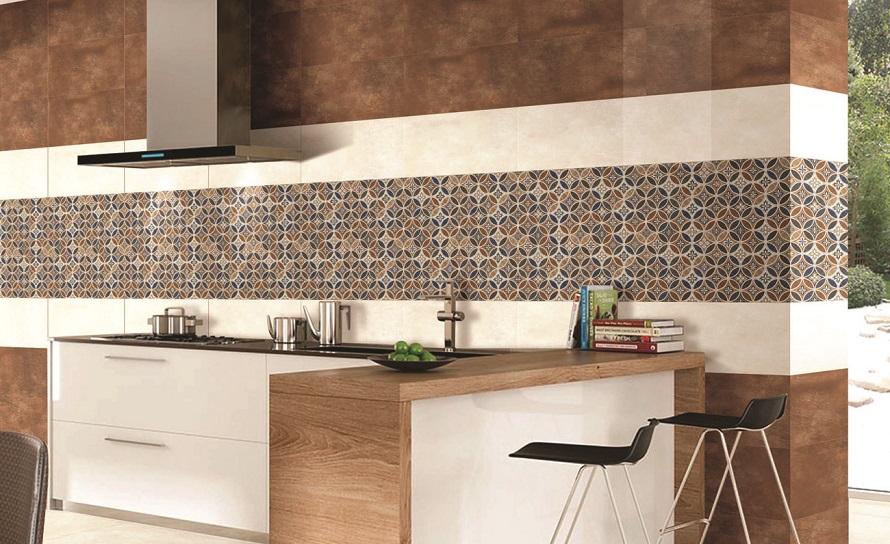 You can choose between putting some fancy kitchen-ish tiles, or simple, yet modern vinyl planks that will be the perfect fit for your new kitchen. With vinyl, it's completely possible to get floors that look like expensive hardwood or even marble, with the difference that it's a cheaper and a more practical solution. Sounds tempting, right?
Depending on your preferences and your kitchen's style, there is a wide range to choose from. Some floors even come in vibrant colours that can be the modern statement your kitchen lacks. So, what are you waiting for? Start searching for your new vinyl kitchen flooring, and I guarantee that the kitchen will be your new favourite room in the house!
Installing Vinyl Flooring Can Be Your Next DIY Project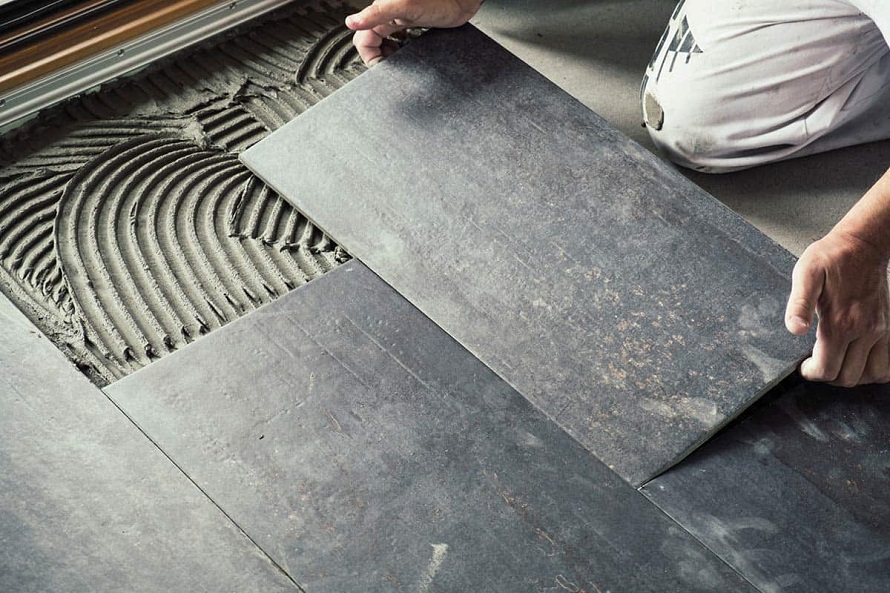 If these floorings are that easy to clean and maintain, they're even easier to install. The hardest part of the installation is the first step – removing the old flooring of your kitchen. But once you're finished with this, the rest will be a piece of cake.
To install this floor, you won't need any special tools or skills. It's a simple process that anyone can do. After making sure that the subflooring is clean and dry, you simply apply the planks or tiles by clicking them next to each other. This is the fastest and the easiest way.
However, there are some types of vinyl floors that require gluing them with a masking tape. If you don't want to bother with gluing them yourself, or crafty stuff is not your cup of tea, there are a lot of companies that besides the flooring, offer installation and maintenance services.