Smoothies are a popular choice for breakfast and snacks, and provide us with the opportunity to consume more fruits and vegetables. Kids smoothies are an excellent choice to include foods that your child might otherwise not eat. Teenagers are big fans of smoothies, and adults on the go love them too. These healthy and tasty drinks are an ideal replacement for the junk food that we usually eat as a snack when we're hungry and don't have the time to have a proper meal. And if you combine them with the best fat burning supplements, smoothies might also help you lose that extra weight.
Reusable smoothie cups are made for easy and convenient use, allowing you to store and take your drink with you. There's a wide range of smoothie cups and tumblers designed to be handed over at your local smoothie bar. Also, if you already have some fresh ingredients at home, you can find a smoothie recipe you like, put everything in a blender and have a healthy drink just in a couple of minutes. And when you're rushing out the door late for work, you don't have to leave half of your drink unfinished. Just close the lid and take it with you.
They're so many reasons why these travel-friendly drink containers are a must-have, and if you don't own one yet, you should hurry up and pick your favourite.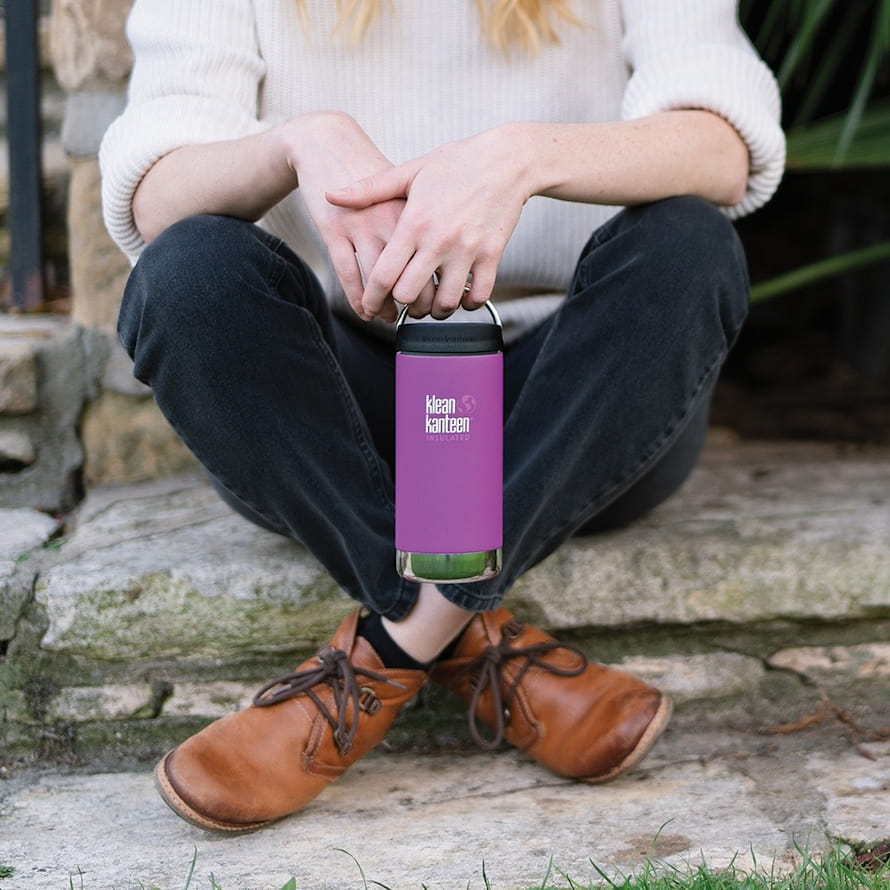 Why It's Important to Use Reusable Cups?
Disposable smoothie cups with plastic lids and plastic straws are used for 15-30 minutes at most, and then just go into a landfill where they take years to decompose. Only a small amount of the enormous waste that plastic cups produce is probably being recycled, which certainly is bad news for the environment. Protecting our environment is the main reason to quit disposable smoothie cups.
But that's not all. Switching to eco-friendly reusable smoothie cups can benefit both the environment and your budget as well. Get into the habit of carrying your own cup, and you might get some discount at some local stores which have a carry-your-own cup policy. More importantly, when you have a cute cup, you'll be more motivated to make a smoothie at home and save some extra pennies.
Modern designs of smoothie to go cups are both stylish and practical. They come all packed up with lids and straws that make them easy to use, and the wide range of colours allows you to pick your favourite one. Or, you know, you can choose two or three cups to match your mood of the day. Such a smoothie travel mag might easily become your favourite travel accessory. You can also expect fewer spills since smoothie cups are made from sturdy and durable materials and have secure lids.
Plastic vs Stainless Steel vs Glass Cups
Reusable plastic smoothie cups are probably the most affordable option available on the market. They are very light, easy to carry around and don't break easily. However, the wear resistance of these cups is poor, and they can also scratch easily. Although plastic is a general term and there're a lot of different types of plastic that are used, the general opinion is that plastic can be very harmful to the environment. It can take hundreds or even thousands of years for plastic to break down, so the environmental damage is long-lasting. Due to the huge environmental awareness, reusable plastic smoothie cups are highly unpopular.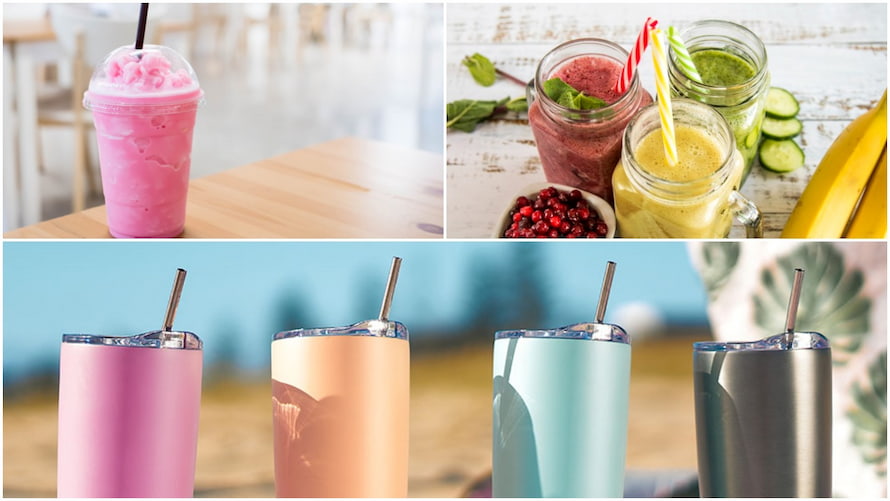 Stainless steel cups are probably the most popular choice when it comes to smoothie cups that are durable and good for the environment. Since they're made from vacuum insulated stainless steel, these cups are quite indestructible. They possess lifelong properties that do not diminish with repeated use. Stainless steel is not susceptible to corrosion and leaks, it doesn't break, and it's an environmental-friendly and recyclable material.
The stainless steel designs usually come with lids and either a stainless steel or silicone straw. If you opt for a stainless steel straw, make sure it features a silicone safety tip to make drinking safer. Whether you opt for a 500 ml smoothie cup or a mini cup of 275 ml, you can't go wrong with a stainless steel smoothie mag.
One of the greatest advantages of insulated stainless steel tumblers is their versatility. You can use one for smoothies, coffee, tea, hot chocolate, or simply to keep your water chilled at your desk at work. A practical stainless steel tumbler might be an ideal companion not only for everyday use but also for travelling and camping. It can provide cold insulation for up to 8 hours and hot insulation for up to 4 hours.
Cups made from insulated stainless steel are also the safest for holding drinks, and they don't require careful handling. The material is sturdy and durable, doesn't break and can last a lifetime. They are also pretty easy to clean: you can wash them by hand or throw them into the dishwasher.
Then, there are also glass smoothie cups. Everything tastes better when you drink it from a glass, I'm sure you'd agree. Glass smoothie cups made from borosilicate glass are very light and easy for carrying around. For maximum quality, you can opt for a glass cup protected by a silicone sleeve with a sustainably sourced bamboo lid. The silicone seal on the lid is designed to keep it firmly in place once the lid is on. Some models come with an include BPA free Tritan straw for safe drinking. Out of all the plastics used in containers and drinkware, Tritan is least likely to retain any taste or odour. With a volume of 500 ml and the ultra-stylish design, no wonder why glass smoothie cups are so popular.