Portable light sources have been around for a long time now. One in particular that has proven to be the most convenient solution of them all is the flashlight. While its beginnings weren't as convenience-oriented as today's modern torches, it was still a significant upgrade over kerosene lamps.
The first flashlight was invented in 1899, which at the time could only provide a light source for a single moment (hence the name). While these early models didn't sell that well, by 1922 there were different designs that allowed longer runtimes thus a more convenient light source. Furthermore advancements in battery technology and light bulbs made flashlights perform even better.
This resulted in the first rechargeable flashlight being introduced in 1967. It took a long time for this to happen and the same can be said for modern torches. A brand that didn't took long to reinvent the flashlight market was Olight. Established in 2006 the flashlight manufacturer introduced tactical torches that had powerful illuminations and extreme durability at their forefront. Throughout the years Olight has been putting out illumination devices for everyone from the everyday bloke to law enforcement as well as various accessories to suit everyone's needs.
Accessories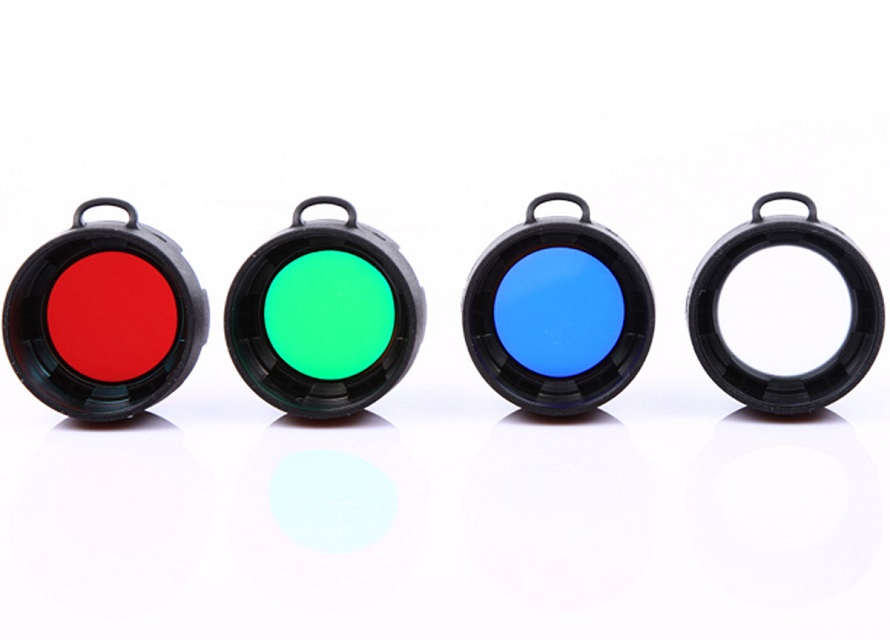 Colour Filters
It's not that Olight is an exception when it comes to colour filters, but the sheer number of choices is on a different level. While we wont go over every type of Olight filter we are going to cover the three main ones, blue green and red. Blue light filters are used by adventurers who want to discover unknown outdoor areas. Blue filters also aid in crime scene investigations since blue light can track biological fluids.
A green Olight filter is great in foggy conditions and when hunting wild hog. Green light can make images appear sharper too since it is an intense filter. Red filters are great for reading maps and to hunt various game animals. These include, dingoes, rabbits, foxes, feral goats and more. Red flashlight filters also allow your eyes to adjust to the dark more easily.
Diffusers
A diffuser is a cover that is either translucent or semi-transparent which allows a ray of light to spread out or scatter. An Olight diffuser is basically going to allow you to soften the beam of light the torch is outputting. Diffusers also reduce glare and provide a certain degree of protection.
What Is a Light Diffuser Made Of?
A light diffuser can be made of either glass or plastic but the ones Olight has are made of a lightweight and durable plastic. These are able to fit on different types of flashlight models.
EDC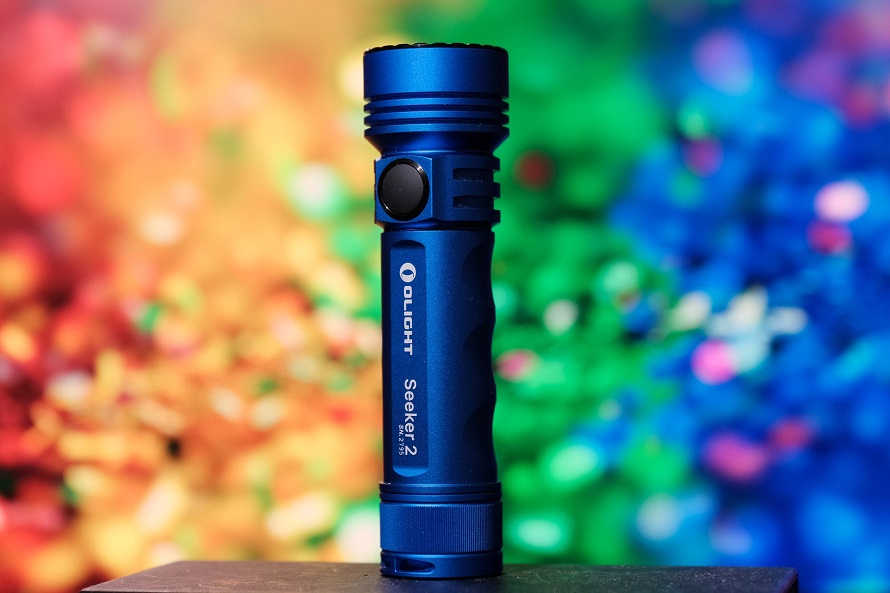 Warrior Mini
For someone who wants a simple everyday carry torch the Warrior Mini is exactly what one should go for. This 105 g heavy pocket friendly torch can output 1,500 lumens across 190 m distance. The IPX 8 rated Warrior Mini has 5 different lighting levels alongside strobe mode and it has a 3500 mAh rechargeable battery via MCC3 cable. The Warrior Mini is 106.5 mm long.
Javelot Pro
The Javelot Pro is Olight's 380 g heavy successor to the M3XS-UT that is capable of outputting 2100 lumens across 1080 m. This flashlight is IPX 8 rated too and it has 4 different lighting levels instead of 5 with two 3500 mAh 18650 lithium batteries that can be charged via a magnetic USB cable. The Javelot Pro is quite longer at 247 mm.
S2R Baton II
If you want an upgrade from your existing S2R Baton the S2R Baton II is the perfect one. This 1150 lumen torch can run for a maxim of 60 days and it can beam across 135 m with an intensity of 4600 cd. Although this is a general use (EDC) torch it still comes with Olight's standard IPX 8 rating and 5 different lighting modes. The S2R Baton II has a 3200 mAh battery that can be charged via MCC cable.
Tactical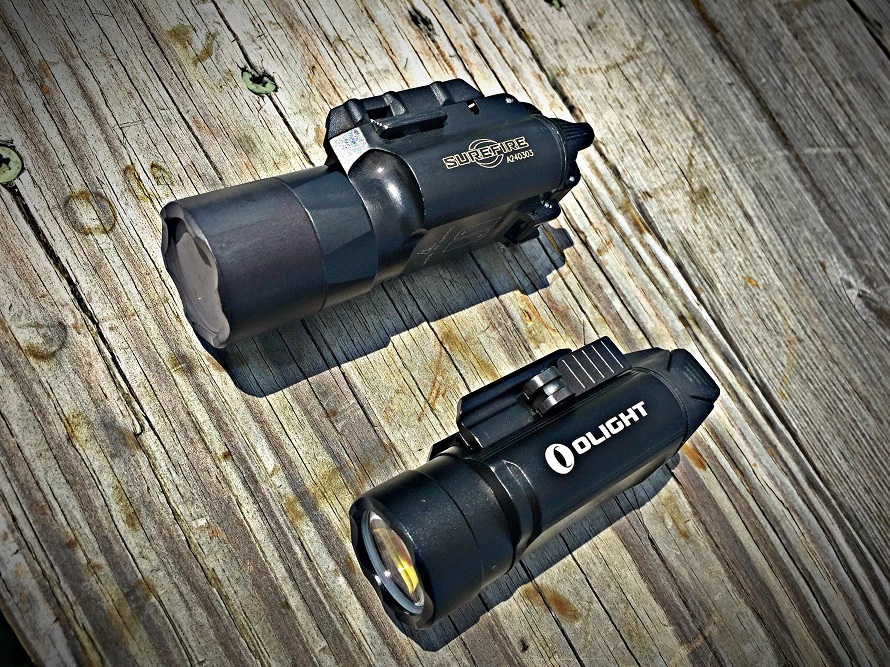 Baldr Pro
The Baldr Pro is a 1350 lm capable torch with a 260 m of beam distance and two CR123A batteries coming in at 1600 mAh. This IPX 4 rated torch has a high performance neutral white LED inside and it comes with 3 lighting levels alongside a strobe mode. The Baldr Pro weighs 129 g and it's only 84 mm long.
PL-2 Valkyrie
For a weapon light that can do only 1200 lm this IPX6 rated torch actually has an extremely long beam distance of 235 m. Whilst it is only 82.5 mm long and 115 g it does come with two CR123A 1600 mAh batteries and a TIR lens reflector.
Odin
This picattiny compatible torch also goes on your fire arm but it provides 2000 lm across 300 m of distance. The 5000 mAh rechargeable lithium battery on the Odin allows it to run a maximum of 8 hours while it only powers two lighting levels. This device can be charged via a magnetic USB cable.
Hunting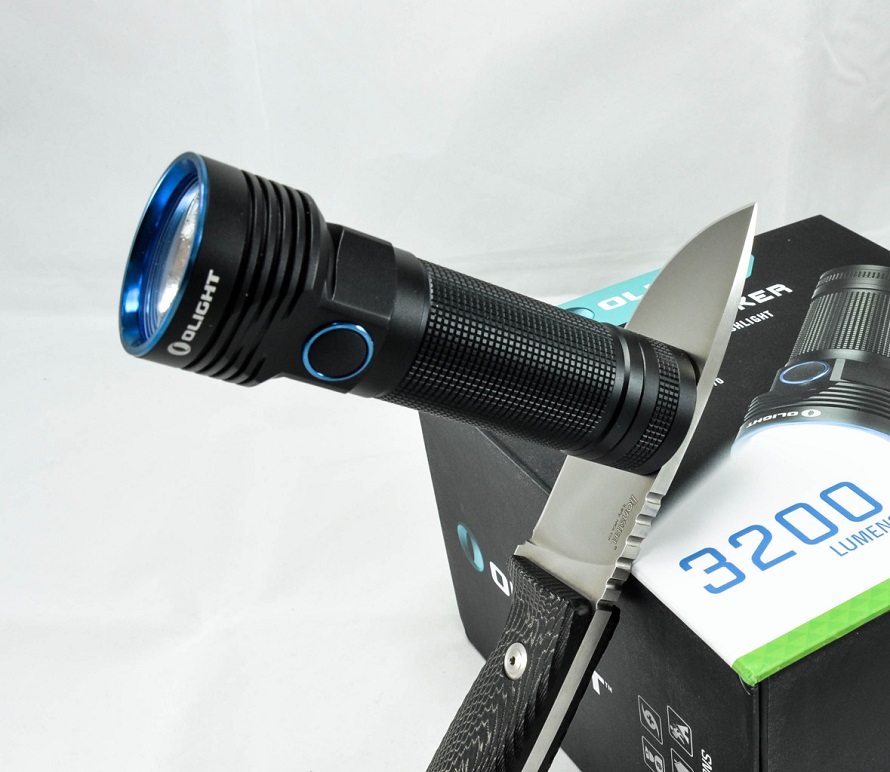 Warrior X
With the Warrior X you get 2000 lm of light output, 560 m of beam distance and two lighting levels alongside a strobe mode. This IPX8 rated 218 g heavy torch has a 3000 mAh 18650 battery that is rechargeable via a MCC1A magnetic cable and it can run for a maximum of 4 hours and 40 minutes.
Seeker 2 Pro
The Seeker 2 Pro is an IPX 8 rated torch capable of illuminating 3200 lumens across 250 m. This torch has 5 different lighting levels and a strobe mode powered by a 5000 mAh battery that can be charged via a MCC1AL magnetic cable. The Seeker 2 Pro is 128 mm long and it uses an XP-L LED to produce its light source.
PL-Pro Valkyrie
This is another firearm rail adaptor that although only has a 900 mAh battery it can produce 1500 lm and it can do so across 280 m of distance. The PL-Pro Valkyrie weighs only 92g and it has an IPX 6 rating with a maximum runtime of 90 min. This torch can be charged with a magnetic USB cable and it comes with a Glock and a 1913 rail adapter.