Different people have different needs when it comes to flashlights. While everyone wants something that's bright, tough and reliable, people in uniform need something with more features and functions to meet the stringent requirements of tactical users. Whether they're hunters, police officers, security professionals, search and rescue or military personnel, tactical users have a wide range of requirements from their lights – from self-defence to simple illumination. Some of the best tactical flashlights available today are made by Fenix – an industry-leading manufacturer with a proven track record of producing high-quality tactical flashlights.
Fenix has built a reputation in the flashlight industry over the years for having long-lasting, high-performance flashlights such as the Fenix PD35 series. They've produced some of the best tactical lights and have earned the trust of police officers, military members and other tactical users all over the globe. The Fenix PD35 series includes tactical flashlights that dish out huge lighting outputs and are built using tough materials for a rugged construction. These flashlights are fitted with a powerful and long-lasting Fenix PD35 battery, feature a tactical interface and strobe, and can be mounted on a weapon using the range of Fenix weapon mounts.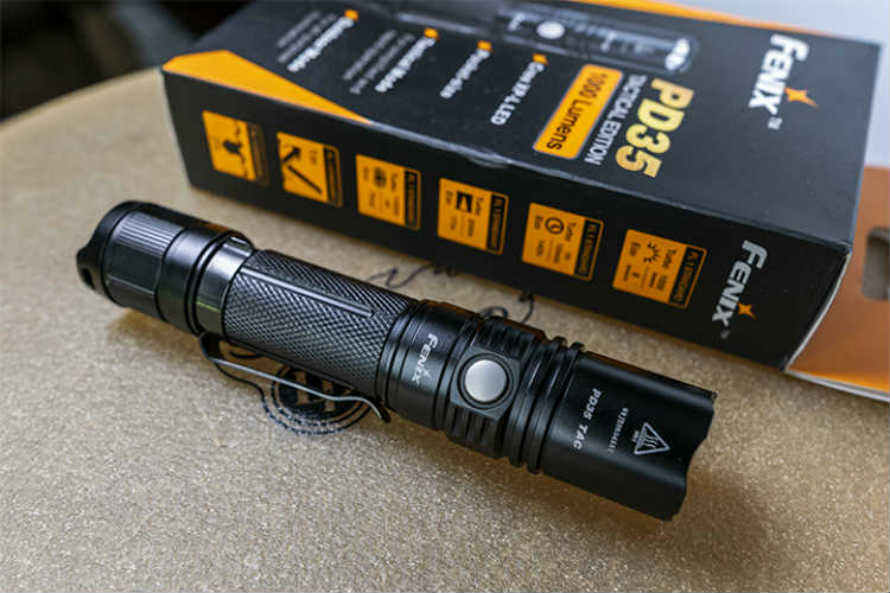 Huge Lighting Output
Tactical flashlights need to cast illumination on every corner. When conventional flashlights don't cut it, look for some of the super-powerful lights made by Fenix. Thanks to advanced LED technology, Fenix tactical flashlights such as the Fenix PD35 can output as much as 1000 lumens.
But there's much more to these lights than their high number of lumens. They incorporate high-tech lenses and reflectors that are specifically designed to spread the light evenly all across the beam. Additionally, they're equipped with a powerful, rechargeable lithium-ion Fenix PD35 battery that has a run time of about 3 hours at 1000 lumens, and as much as 30 hours of runtime on low brightness levels.
Rugged Construction
It goes without saying, but there are a lot of pretenders on the technical flashlight market nowadays. In other words, not every flashlight labelled tactical is made to withstand the abuse that comes with being a frequently used tool in rugged environments.
Tactical flashlights should be built of military-grade anodised aluminium, and feature stainless steel components to further reinforce their construction. These are high-grade materials that can withstand impact and drops, as well as moisture, corrosion and scratches.
Fenix PD35 tactical flashlights are fitted with O-ring seals that protect against extended exposure to water. Reliability is one of the main reasons why Fenix has become the go-to brand for hunters, hikers and military personnel who need to put their trust in their gear in dire situations.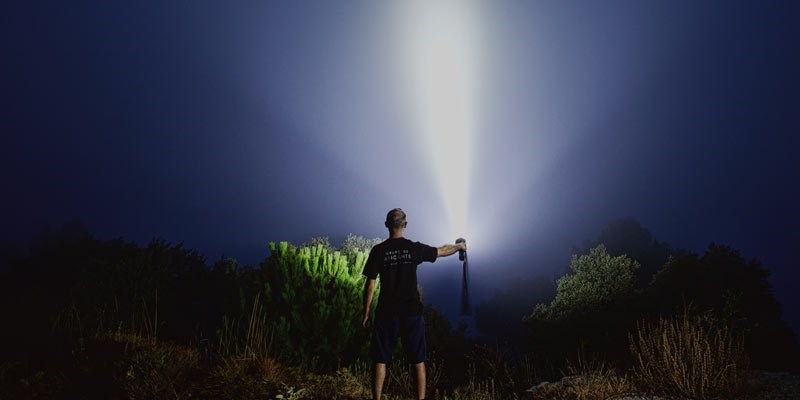 Tactical Interface/Strobe
Accessing the light's functions is just as important as the light providing huge light outputs. You want the flashlight to come with multiple output modes. The ability to illuminate a low beam can be essential when you don't want to give away your position, for example.
Most tactical flashlights have an interface that allows you to toggle between output modes using just one hand. This makes things easier in case you're carrying tools or a weapon with one of your hands. Tail-mounted switches are suitable for tactical users for this exact reason. They also allow you to keep the light pointed downrange as you activate it and cycle through the different outputs.
Weapon Mounting
Some tactical flashlights can be fitted with accessories like weapon mounts, which allow your light to be attached to a standard Picatinny rig. This transforms your hand-held flashlight into a fully functional, effective weapon light quickly while adding great versatility for hunters and tactical users who want to free up a hand. It takes a special kind of tactical flashlight to handle the recoil and shock that comes with mounting it on a weapon. Fenix lights are equipped with ultra-secure circuitry and dual-contact springs that ensure the flashlight's components won't be shaken loose when it gets bumpy.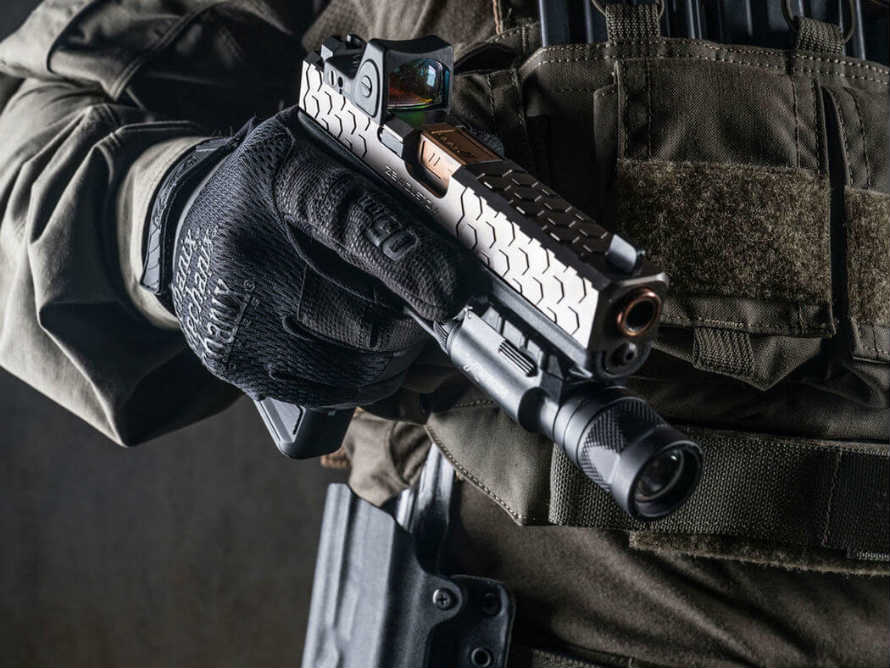 Fenix PD35 Quick Review
These are high-performing, pocket-sized flashlights that focus on tactical employment. They feature a compact size and high brightness output, and are made of aircraft-grade aluminium with a hard-anodised, anti-abrasive finish. Their tactical design features a momentary-on activation, one-button operation and simplified output levels that include low, strobe and turbo mode. The reliability and versatility separates the Fenix PD35 from other tactical flashlights. Additionally, they use a CREE XP-L LED with a lifespan of over 50.000 working hours. They're powered by either two 3V CR123A batteries or a 18650 rechargeable li-ion battery.
Some of the more notable features include a digitally regulated output that helps maintain constant brightness, low-voltage reminder that indicates when the batteries are due for replacement, an intelligent memory circuit that automatically enters the last used output mode when they're turned on, reverse polarity protection, anti-slip and anti-roll body design, a side switch that's only capable of mode changing under tactical, waterproof rating of IPX-8 and toughened ultra-clear glass lens that features anti-reflective coating.