Whether you are a big fan of awesome audio gear or just a clueless bloke who wants something that gets the job done, it's important to know what will fit your boating needs best. Although the type of equipment will generally be the same as the one you'd get for your home, the materials it's made of will be rather different. They will need to be able to withstand the elements because of the different circumstances at bay, while also providing you with the proper sound quality. As long as you don't go overboard and focus on what you need, everything will fall in place. And to make sure that's the case, I've made a list of the most important pieces of audio gear you will need for an amazing boating experience.
Receiver
As the core element of the marine audio equipment, you can call the receiver "the brain" of the whole setup. A water-resistant faceplate and a coated circuit board go hand in hand in providing this piece of equipment with solid protection from various conditions. Furthermore, line-level outputs are a must when you want to have control over satellite radio, as well as sending signals to an external amplifier. Although not of great importance, a watertight remote control, and a weatherproof faceplate cover are good additions if you want some ease of use and extra protection.
Speaker
A good quality speaker will have a (polypropylene) plastic cone and rubber surrounds for the best weather protection while having enough power to produce a good quality of sound to battle the engine, wind and water noise. Make sure the speaker that you will get has corrosion-resistant mounting hardware, and if you happen to put it near the compass, check if it is magnetically shielded, so it doesn't interfere with your navigation. You should also check the IP rating of the speaker if it has one. It doesn't matter if one speaker is bigger or if it has 50w more peak than the other, because at the end of the day, what matters are the individual specs, and whether the whole system is properly tuned.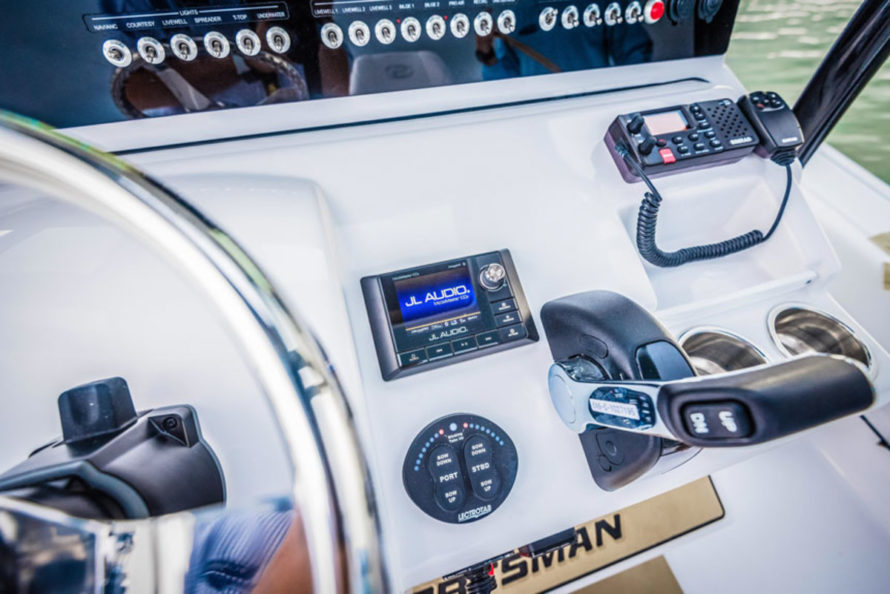 Subwoofer
If you want to add more bass to your marine audio system, a subwoofer is a perfect fit, and similar to the speaker – its cone should be made out of plastic and rubber surrounds for the ultimate weather protection. For the installment, you should copy the template (1:1) from the package and stick it with a water-based adhesive on the boat for guidance, but be careful not to put it in between a tiny gap – give it some space to "breathe". If you don't want the hassle of figuring out the right place for a subwoofer, you can get air-free rated component subs or enclosed subwoofers, which are also great if you don't want to power an external amplifier – just make sure they are powerful enough.
Amplifiers, Wires, and Cables
Forget about the enclosed subwoofer if you are considering buying an amplifier. A quality marine amp features coated circuit boards, has plenty of power and non-corrosive connectors. Speaking of connectors, the wires and cables are what connects everything together. Make sure to get tinned instead of bare copper wires as copper can easily corrode in salt water and under the exposure of UV (ultraviolet) light.
Satellite Radio
This type of radio is an important piece of audio equipment. It also acts as an emergency tool because it has a range of 320km off-shore reception. Many marine radios will come satellite-ready, meaning that you can add an external tuner, which can be mounted out of sight, with the cable right into the radio or even better, you can use a plug-and-play radio satellite. You will need to get a marine kit that will fit your tuner, with a marine rated satellite radio antenna in order to get it up and running.