When you live in an apartment in the middle of a busy city, the only way to get closer to nature is to invite some greenery in. Indoor plants are a wonderful addition to the home. They bring lively colours, help clean the air and infuse it with fresh scents. And just looking at them can boost your mood.
Once you get your first plant, you're going to be addicted, trust me. However, some of us think they don't have enough room for an indoor garden. But before you choose to stick to one or two pots in your home, let me suggest a solution – indoor hanging planters.
When you lack floor and counter space, the perfect option is to hang your plants. Plus, when your plants are off the ground and at eye level, you're less likely to forget about them. And opting for indoor hanging planters is also a great way to keep your houseplants away from children or pets. Here's what you need to know to create a practical, thriving and stunning hanging garden.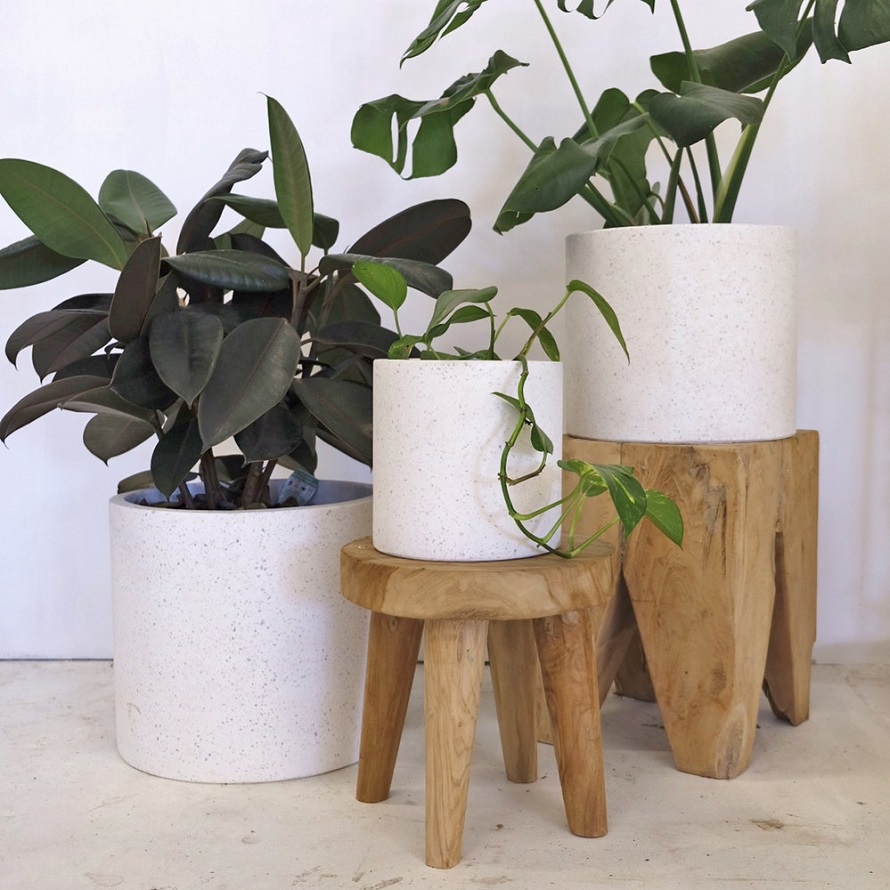 How to Choose the Right Hanging Pots
First of all, let's start with the pots. You can find indoor hanging planters in all kinds of colours and made of all sorts of materials from ceramic to porcelain, copper, fibreglass, powder-coated steel and concrete. Since they're going to be at eye level, it's essential that you pick pots that will complement your existing décor. For instance, if you want to adorn your kitchen wall with some stylish indoor hanging planters, try to find a material that closely resembles the finish on the tapware, the cabinets' handles or the countertop. This way, you'll create a more cohesive look with the planters.
It's also essential to consider the weight of the planter. Ideally, indoor hanging planters should be light so they can be suspended from the ceiling or hung on the wall more easily. Also, don't forget to account for the weight of the soil and the plant itself. If you want to hang larger plants that will need more room for their roots to grow, it's best to go for fibreglass planters which are much lighter than other materials. But if heavier materials such as powder-coated steel or concrete planters are your preferred look, then stick to smaller sizes and smaller plants.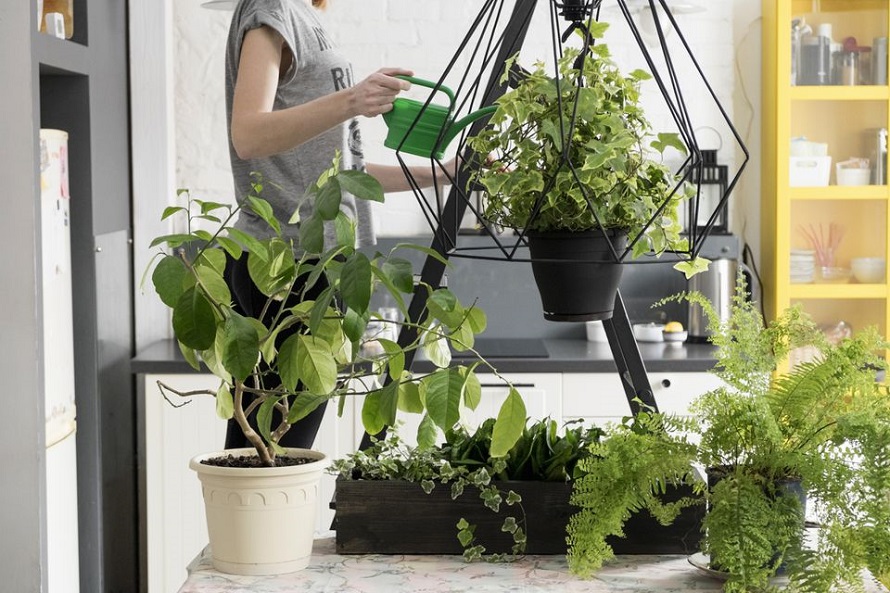 What Are the Best Hanging Plants
When it comes to picking what plants to include in your indoor hanging garden, it all depends on your living conditions as well as your personality. Some plants like full sun, while others thrive best in shade. So, if you want to adorn a bathroom with a small window, make sure that you pick plants that can survive on low light. This can be a snake plant, philodendron, English or Algerian ivies, pothos and similar plants.
In addition, in order to create a thriving indoor garden, you need to know how often to water plants. Also, consider that hanging plants can be harder to reach when it comes to watering. So, if you think you can stay committed to grabbing a chair or a ladder every time you need to water your plants, you can be free to pick more demanding and thirsty species. On the other hand, if you're a bit lazy when it comes to chores, go for low maintenance plants which require to be watered only now and then, like for instance succulents.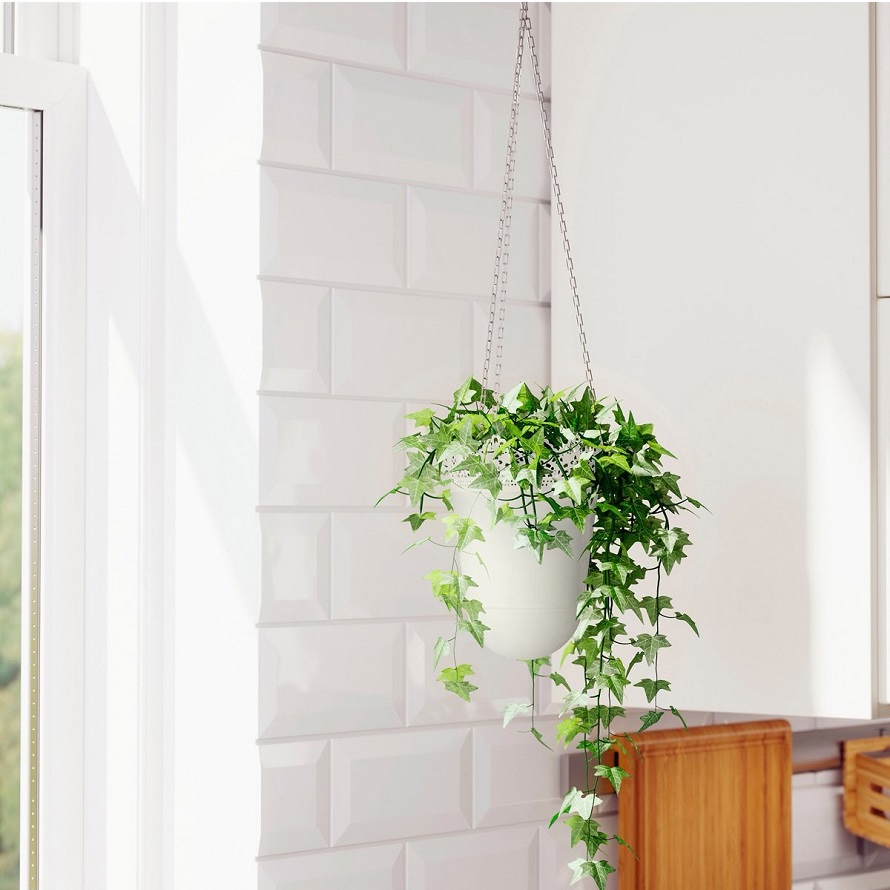 How to Hang Potted Plants
There are many different ways you can hang an indoor garden depending on the type of pots, the plants as well as the room's features. One way is to pick lightweight planters that can be easily suctioned to windows or walls without damaging them. You can plant some herbs in them, hang them on a window or wall in the kitchen and have your own fresh supply of herbs within reach.
If your home is styled in a vintage or eclectic fashion, you may love the following tip. Try fastening hangers made of macramé to the pots and then hang them on s-hooks attached to the ceiling. The resulting look will give the space a raw, organic feel. This works best when used with ceramic pots. You can also use S-hooks to hang your indoor plants from a curtain rod, the edge of a door or a bookshelf. You can even hang your plants from a coat rack. This can be a fun way to decorate your entryway with plants.
But by far the most common way to hang potted plants is on an indoor trellis fastened on a wall. You can also use a mix of pots as well as other decorative hanging objects, like for instance picture frames or paintings.
These are just some basic ideas for hanging your plants. But feel free to use your creativity, available supplies and interior features to come up with something that's going to be unique for your home.