A camping trip is always recommended because nothing can replace relaxation in the grand outdoors. However, what separates a good trip from a bad one is comfort, and there's no comfort without your favourite food.
Knowing this, having the adequate camping cookware is important even if you don't want to bother carrying. Regardless of your camping style, there are essentials your camping kitchen can't do without if you plan on eating cooked meals and skipping snacking all day. If you don't know where to start, paying a visit to a specialized store is a good idea.
Depending on your cooking, and what you like to eat mostly, some of the basic must-haves are usually cooking utensils, like knives, spoons, spatula, pans, pots because rarely anyone of us can make it through the day without starting with a fresh cup of coffee, or collapsible kettles to save up on space, and of course, travel drinkware.
When you want to keep drinks hot or cold, you can rely on insulated cups, with the bonus they are reusable. The lesson to be learned here is to stop harming the environment with disposable utensils and drinkware, and buy only reusable. This includes straws too, as for the plates, it's best to acquire enamel instead of plastic or ceramic.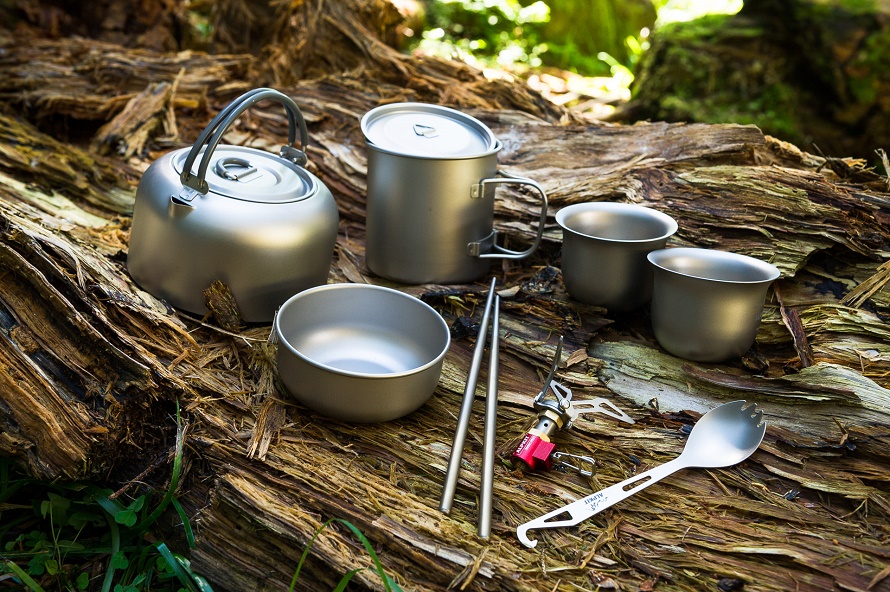 If you're not exactly the campfire type, or don't want to bother preparing it, then a portable stove can be your best friend. If you don't mind the use of electricity, part of your camping cookware can be a 12V oven, as opposed to the butane gas stove. As camping is the opportunity to learn a thing or two about eco-friendliness, you also have the solar-powered oven option that works even on cloudy days!
When cooking for more people, and you happen to be a fan of sandwiches, toasts, pancakes, or the savoury bacon, the cast iron griddle would be the ace up your sleeve. Don't forget it's the outdoors after all and tools come in handy, so when you don't have that much space to pack each of every, multi-tools are ideal as they have can openers and bottle openers in one, and more!
What would food be without the cooler to keep it fresh, right? The type of cooler you buy depends on the amount of food you need to cool as well as the days you plan to stay away, and the charging. Some prefer gas, others prefer electricity, but whatever cooler you buy, you still shouldn't leave out reusable ice packs.