When it comes to home décor, bathrooms don't always get the attention they deserve. Considering all the time one spends in there bathing, grooming, and pampering, it is really important to make that space look nice and be cozy. One great way to do that is by adding beautiful yet functional bath mats.
Get the right one and your morning routine will be much simpler and more pleasant. Get the wrong one and getting ready in the morning can become that much more of a hassle. With that said, taking a little time to do some homework on how to buy the right bath mats for your bathroom can make a world of difference. Here's a bit of help on the matter.
Measure Your Bathroom
A bath mat may appear a lot larger or smaller online than it will look in your bathroom. If you don't know the actual dimensions of your bathroom floor and the dimensions of the space you want to cover, instead of just assuming, take the measuring tape and get the real numbers down. This will make your search that much easier and you won't have to end up returning the mat you bought because you realized afterward that it was too big for your floor space.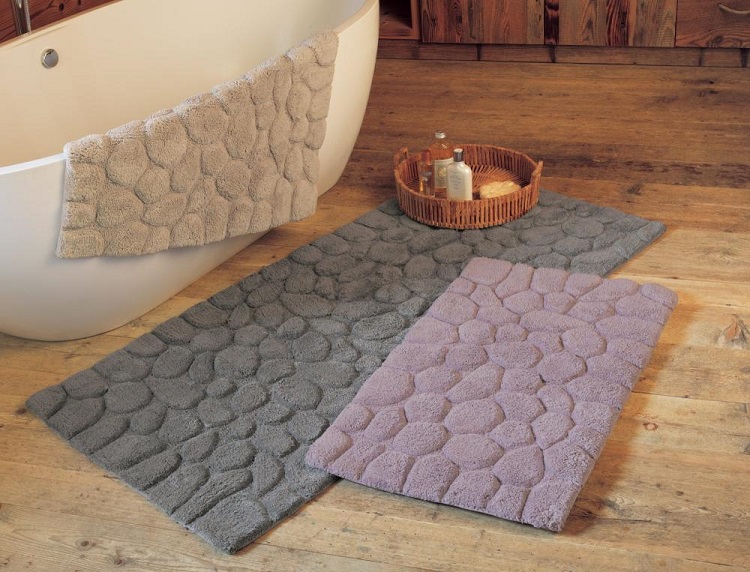 Consider Who Will Use the Bath Mat
If older people are going to be using the mat, you may want to consider a non-slip model. For kids, you will want to look for brightly coloured mats that can be easily washed. Maybe you want a unique bath mat for your master bath or a durable, affordable bath mat for a high-traffic bathroom. Take a minute to think about your needs and how the mat will be used – this will make the decision process easier and faster.
The Material Matters
Cotton bath mats are more expensive than the other materials for all the right reasons. They provide a luxuriously soft feel, do not deteriorate after they have been repeatedly used, have exceptional water absorbency while being relatively thin, and self-dry pretty quickly. On top of all that, cotton bath mats are usually machine washable, which saves you the hassle of manually cleaning them.
Chenille bath mats are a popular choice due to their great ability to absorb water and collect dust – features that make them ideal for drying your feet and collecting dripping water when stepping out of the shower. They're also effective at wiping off dirt and dust from shoes as a front entrance floor mat. In addition to their versatility, chenille bath mats are also super luxurious to the touch. Although these features increase the price of chenille bath mats, I'm sure you won't regret investing in one for your home as they have a lot of benefits to offer.